Many of us settle for the same bland homemade sandwiches everyday; grey, soggy bread wrapped in cling film. Last night's leftover chicken on a bed of limp lettuce.

We are the people who think we don't have the time to make something fancy. And we are the people who Philadelphia want to inspire in the kitchen.

Philadelphia wanted to use their social platforms to start a lunchtime revolution. We were tasked with creating a long term campaign to encourage people to love lunch again. The following examples are a selection of the ideas we put forward:



SPREAD THE LOVE

The Philadelphia 'Spread The Love' Facebook app allows people to send their friends a loving message to brighten up their day. Record a song, a joke or some kind words and our talking sandwich 'Big Phil' will deliver it on your behalf.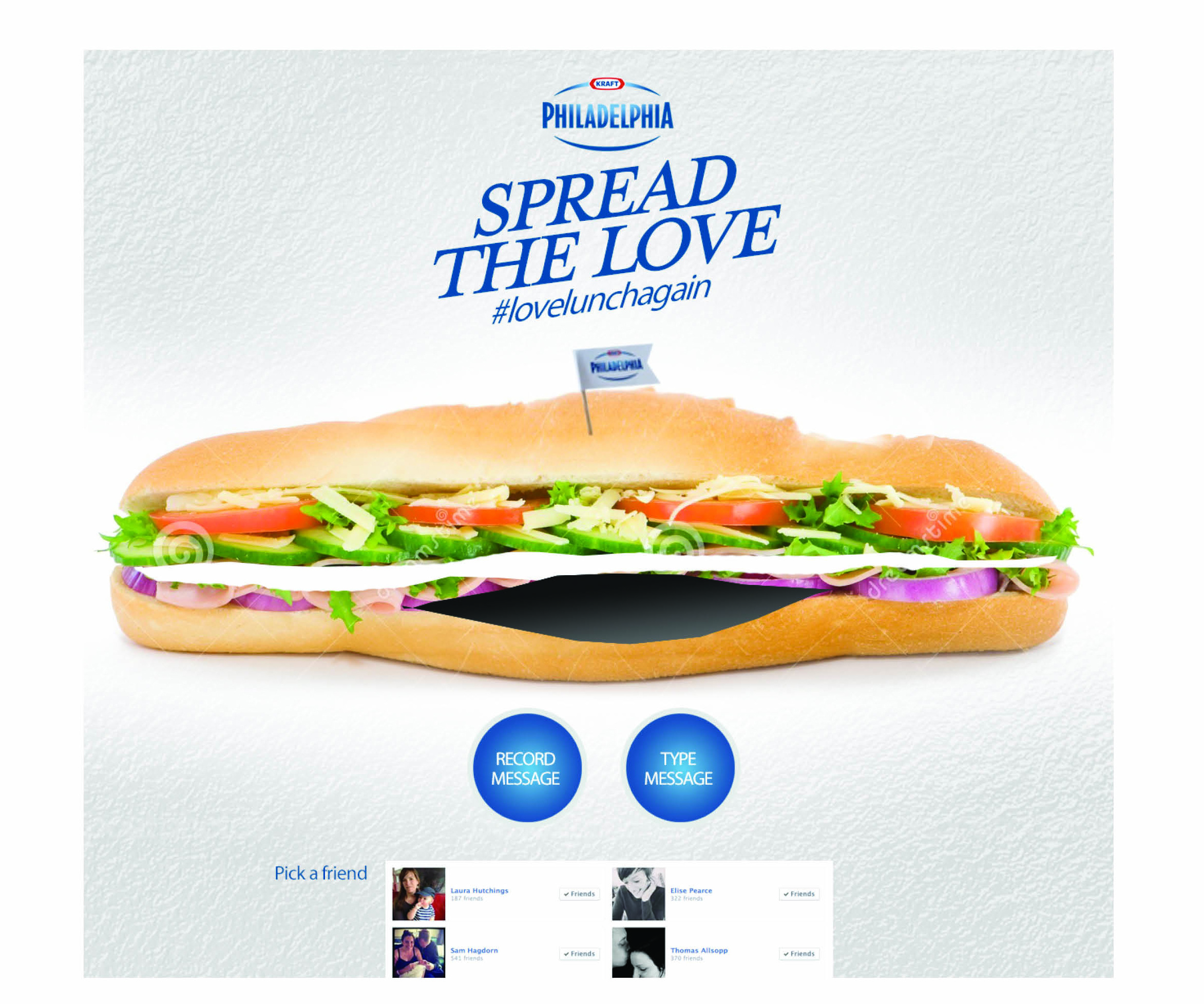 THE SANDWICH WAKE UP CALL

Are you in need of a Sandwich Wake Up Call? Download our Alarm App and it will repeatedly shout out a sandwich suggestion, subconsciously inspiring you to make a better lunch as you emerge from your slumber.

Once you've finally come around, the app will give you instructions on how to make it. Sandwich suggestions change each day.





OUT OF OFFICE MESSAGES

We posted these 'Out Of Office' templates on Facebook and Twitter for people to attach
to their emails when they were away enjoying their Philadelphia sandwiches.






THE LUNCH CRITIC

Each week our lunch critic turns up unannounced at an office with a camera crew and rates everyone's lunch. If he says WIN you go through to the next stage of the competition. If he says BIN, you're out.




The candid documentary footage is uploaded to Facebook and Twitter and over the next seven days we stage a knock out competition with the WIN sandwiches, where the public get to vote for the lunch of the week.





credits


Agency: Proximity London
Copywriting/Art Direction: David Grenfell & Steve Allsopp
Creative Directors: Rick Blackburn & Nick Moffatt


Never called 'Dave' ︎
Powered by yer ma ︎